It's been well documented that the coronavirus pandemic has disrupted a broad array of markets, from eCommerce to transportation to entertainment and all points in between. Some sectors have benefited tremendously while others have struggled for survival.
These are trends that we follow closely and capitalize on through our moneymaking strategy – and we hope you're doing so as well, as the last thing we want you to do is invest in an industry that's in decline. And believe me, there are industries that you'll want to avoid.
You might be thinking about cruise lines and casinos, and those are certainly troubled market niches. But you should also take a hard look at the old-fashioned meat industry, which was already in dire straits in recent years but fell further into decline as the pandemic took hold.
It's actually gotten to the point where people don't call it the "meat industry" anymore – they're calling it the protein industry because so many people, including millennials and Gen Z, are looking for healthier, more mindful alternatives to meat.
Our research is finding new generations of people seeking cruelty-free, sustainable meat alternatives and major investors who are looking to bold, future-facing companies to find new ways of providing protein. No matter how you slice it, animal meat is beginning to look outdated.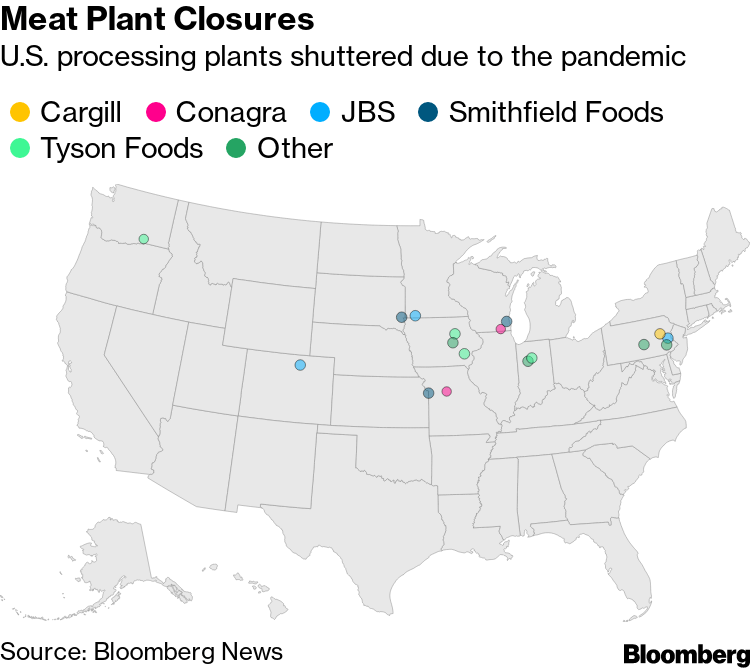 Courtesy: Bloomberg
That's bad news for traditional meat processing plants, many of which have been shutting down due to COVID-19. It's easy to just blame the pandemic, but the data clearly shows that the meatless food industry was steadily taking market share away from animal product companies long before COVID-19 started.
Is it really the coronavirus that upended the traditional meat supply chain, or is it something bigger? At the very least, we can conclude that COVID accelerated a shift that was already in progress. Consider these facts and decide for yourself which market is the better one to invest in:
The annual retail food market grew 2.2% in 2019, a nearly flat performance.
In contrast, the plant-based food market grew 11.4% that year.
Also in 2019, U.S. plant-based food and beverage start-ups raised over $1.7 billion through more than 300 deals, a huge increase from nearly $1.2 billion in 2016.
In March and April of 2020, the plant-based meat alternatives industry experienced a sales increase of 264%.
As viral outbreaks in animal processing factories crippled meat supply chains, the estimated losses to the traditional meat industry will amount to more than $20 billion in 2020.
93% Of Investors Generate Annual Returns, Which Barely Beat Inflation.
Wealth Education and Investment Principles Are Hidden From Public Database On Purpose!
Build The Knowledge Base To Set Yourself Up For A Wealthy Retirement and Leverage The Relationships We Are Forming With Proven Small-Cap Management Teams To Hit Grand-Slams!
[contact-form-7 404 "Not Found"]
It's pretty obvious by now that you'll want to focus your attention away from the troubled meat processing companies and instead consider innovators in fresh plant-based alternatives. My personal favorite one in this market right now is an emerging plant-based food technology company called The Very Good Food Co. (CSE: VERY, OTC: VRYYF).
Prosperous Regards,
Mac Slavo
President Trump is Breaking Down the Neck of the Federal Reserve!
He wants zero rates and QE4!
You must prepare for the financial reset
We are running out of time
Download the Ultimate Reset Guide Now!
[contact-form-7 404 "Not Found"]
Disclaimer/Disclosure:
We are not brokers, investment or financial advisers, and you should not rely on the information herein as investment advice. We are a marketing company. If you are seeking personal investment advice, please contact a qualified and registered broker, investment adviser or financial adviser. You should not make any investment decisions based on our communications. Our stock profiles are intended to highlight certain companies for YOUR further investigation; they are NOT recommendations. The securities issued by the companies we profile should be considered high risk and, if you do invest, you may lose your entire investment. Please do your own research before investing, including reading the companies' SEC filings, press releases, and risk disclosures. Information contained in this profile was provided by the company, extracted from SEC filings, company websites, and other publicly available sources. We believe the sources and information are accurate and reliable but we cannot guarantee it.
Please read our full disclaimer at SHTFPlan.com/disclaimer
The post .7 TRILLION MARKET UPENDED – Plants Shutting Down, Major Shift in Progress! first appeared on SHTF Plan – When It Hits The Fan, Don't Say We Didn't Warn You.
Source: SHTF Plan
Powered by WPeMatico